Jamaica refuses to accept cruise ship passengers over coronavirus fears
By Mirror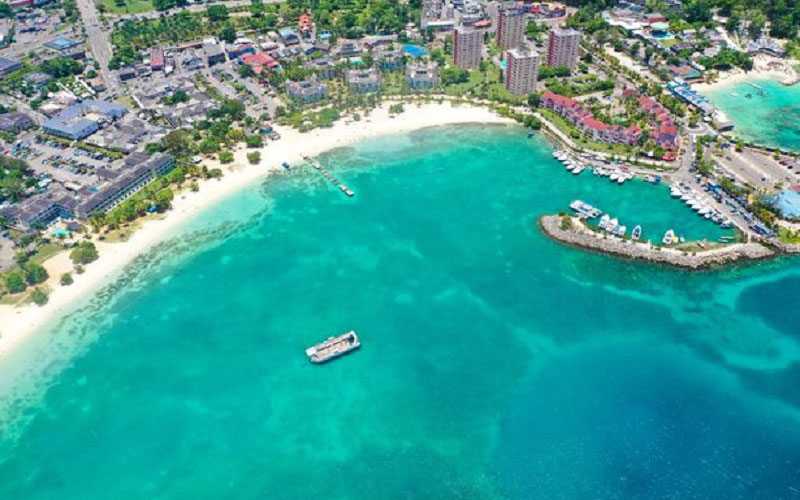 A cruise ship carrying thousands of passengers has not been allowed to enter Jamaica over coronavirus fears.
The 4,500-capacity MSC Meraviglia is heading for another port having been detained in Ocho Rios for hours after red flags were reportedly raised by health inspectors onboard.
Reports on the ship suggest Jamaican immigration is "currently denying disembarkation" after a crew member fell ill on board. The Filipino worker is said to have been in Manila within the last few days.
The ship has been waiting a mile offshore after arriving earlier on Tuesday morning from Miami.
Passengers have been seen standing on deck but there has been no confirmed cases detected with one report saying action has been taken as a precaution.
Passenger Laura O'Neill said she had no idea what was going on until she read Mirror Online's story.
She told us moments ago: "We've just been told that we will be departing Ocho Rios since we are not being allowed entry.
"We have received no communication as to why we are not allowed off the boat except for announcements saying that we are waiting for officials to clear us.
"This has been going on since 9am with no additional communication from anyone on board. If it wasn't for the article, I would have no clue as to what is actually going on."
Another woman on board said:
"Before boarding in Miami our temperatures were taken to make sure.
Staff encourages us to clean our hands before entering buffet and restaurants areas. There are stations with disinfectant in every floor and main areas.
"The frustration was palpable amongst us passengers. We were looking forward to enjoying the beaches, the food and the culture."
An MSC Cruises Statement read: "As is standard practice when a vessel approaches each port of call during a cruise, the ship's command has to report any illness on board to the relevant local health authorities. Upon arrival this morning MSC Meraviglia reported one single case of common flu (type A influenza) affecting a crew member from the Philippines.
"The crew member had embarked at the beginning of the cruise in Miami, after passing the mandatory health screening that all of our guests and crew members receive before joining the cruise, a precautionary measure that we have implemented fleetwide.
"The local port health authority in Ocho Rios today requested further guidance from the National Ministry of Health in Jamaica's capital of Kingston.
"After waiting in port for nearly four hours for formal clearance, ship's command decided to leave Ocho Rios for the next port of call as the long wait had compromised the passengers' proposed time at the destination.
"All MSC Meraviglia's guests and crew have been screened individually upon embarkation, both in terms of their travel history as well as their health.
"MSC Cruises denies embarkation to anyone – crew and guest alike – who has travelled to, from or through mainland China, Hong Kong or Macau, as well as to people who during the past 14 days have travelled to, from or through any of the municipalities that are subject to quarantine in central northern Italy.
"In addition to this, all MSC Cruises ships also conduct individual pre-boarding screening by thermal cameras to identify guests or crew members with signs or symptoms of illness such as fever or feverishness, chills, cough or difficulty breathing. This will also result in denied embarkation.
"The crew member had travelled to Miami from Manila, via direct connection in Istanbul. He developed symptoms of common flu and tested positive to type A influenza after he visited the ship's 24/7 Medical Centre while already on board. He has no other symptoms.
"MSC Cruises apologises for any inconvenience caused and the disappointment to its guests in connection with today's missed call due to the delay in receiving clearance."
The Jamaican Ministry of Health and Wellnes said in their own statement: "A cruise liner with over 4,500 passengers and over 1,600 crew was denied access to the port of call. It was discovered that a crew member was placed in isolation on board.
"The crew member had a cough, fever and associated muscle pains with a travel history to a country of interest relating to the COVID-19."
The MSC Meraviglia was launched in June 2017 and sails to more than 200 destinations around the world.
Global cases of the virus have now passed 80,000, the vast majority of those in China.
Hours earlier, a hotel in Tenerife was been placed on locked down after a visiting Italian doctor and his wife tested positive.
Guests at the Costa Adeje Palace Hotel are not allowed to leave their rooms.
The World Health Organization said on Monday the world should do more to prepare for a possible pandemic.
Health Secretary Matt Hancock today said he was "not planning" a trip to northern Italy as the Government defended its approach to the coronavirus outbreak.
People coming back from affected areas have been told to self-isolate but the Foreign Office has not changed its travel advice, meaning flights continue to take Britons to the region.
Downing Street insisted its approach was based on medical evidence but stressed that travel advice was kept under review.
US Secretary of State Mike Pompeo is "deeply concerned" that Iran's government may have suppressed crucial details about the outbreak.
He said: "The United States is deeply concerned by information indicating the Iranian regime may have suppressed vital details about the outbreak in that country.
"All nations, including Iran, should tell the truth about the coronavirus and co-operate with international aid organisations."