Love kindled on the road
By Jayne Rose Gacheri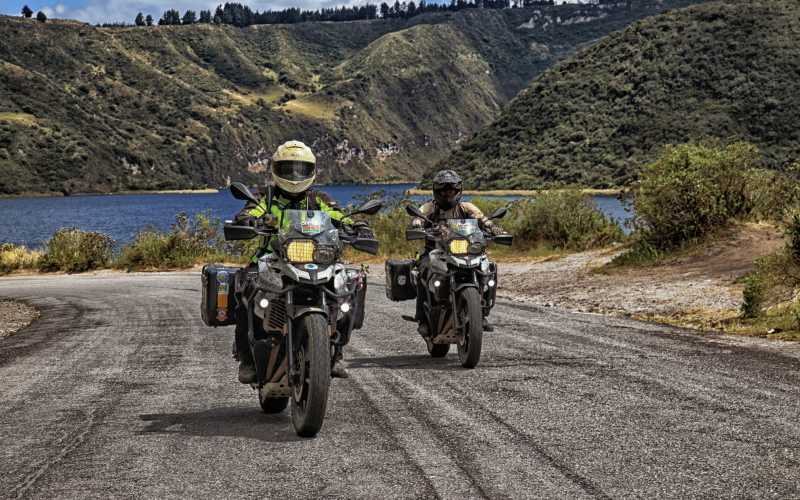 "When your first date is spent zip lining and the next one skydiving, your love journey is naturally bound to be filled with thrilling escapades and adrenaline rush adventures," Wamuyu Kariuki tells me as we settle down for lunch at Sacho, one of the famous eateries at the Tanzania-Namanga border.
That is how Wamuyu opens up on her love story of travelling the world on motorcycles with her loving husband, Dos Kariuki – whom she fondly refers to as "the wheel spanner of my life". This newly-weds have been journeying on their bikes together for one and a half years and they plan on doing this for the next three years.
Do they ever get tired of spending every day together and being in each other's faces, I ask, to which Wamuyu responds that their love was at first sight and they have never been able to take their eyes off each other. "We rode into each other's hearts – that is the best place that the bikes have taken us, and the sweetest part of our love story is that we have been riding together ever since our first date."
Their love story was brewed at a bikers' event in January 2016. "When we met at that event, our eyes locked and the rest, as they say, is history," beams a smitten Wamuyu.
"We want to explore the world and see it with our own eyes, make our own experiences, enjoy foreign countries, cultures, and traditions, and tell the story of our beloved country to the world – we want people to hear the story of Kenya from Kenyans," says Wamuyu. The love-struck couple who have been married for two years is on a four-year mission to conquer the world riding motorcycles.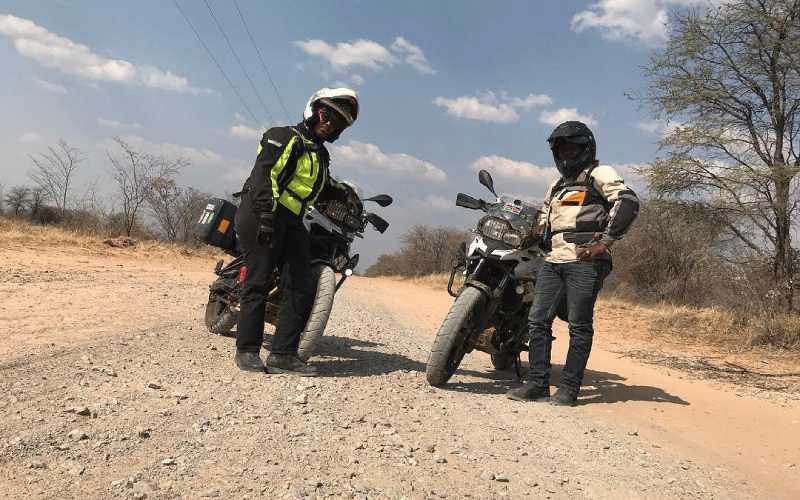 How it all started
In 2015, three months before they met, Dos had ridden from Kenya to South Africa and back on his 180cc bike, covering 12 countries. This made him the first Kenyan on record to ride the smallest bike on an adventure trip of that magnitude in Africa.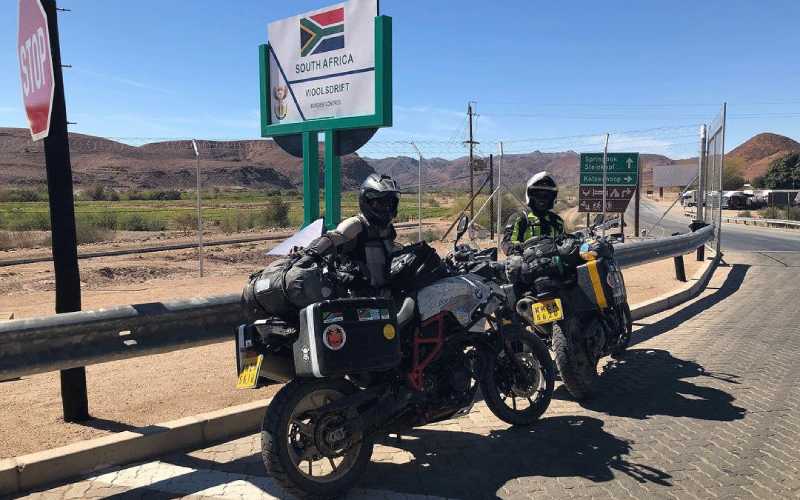 Two years later, Wamuyu took up a challenge from Dos and went on a solo adventure ride to Tanzania through the Namanga border. "I rode across Tanzania to Kigoma, Lake Tanganyika and on to Mwanza and then through Isebania border before detouring to Kisumu and back to Nairobi," says Wamuyu. In ten days, she had covered a distance of 3,100 km, which made her the first Kenyan female long-distance rider.
It was then that the couple discovered they shared a passion for travel beyond the Kenyan borders, beyond prejudices and the usual comfort zone. "We wanted something that would cement our relationship," narrates Dos.
After careful deliberations, Dos and Wamuyu decided to take a risk and settle for this dream. They moved in together and began preparations. Wamuyu, a human resource practitioner took up the task of planning while Dos, a financial expert took up the financial task. The couple spent two years saving and scouring every available information on how to begin a world tour using motorbikes.
The planning took into account the types of bikes that they would need, their maintenance and the pros and cons of the selected bikes. "Some motorbikes are expensive to buy but cheaper to maintain, while others are the exact opposite," explains Dos. Further, they also had to look at the types of routes that would work best based on the terrain, routings and visa restrictions (the Kenyan passport is not very strong, even when travelling to other African countries).
"We realised that our path was unique since similar journeys rarely begin in African countries," says Dos. Everybody, they read about, had started in Europe, the USA, and Australia.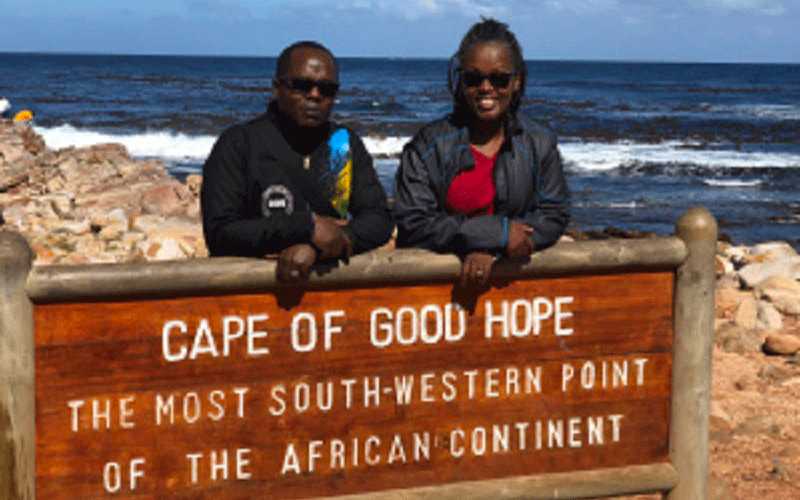 Other considerations included weather, their two teenage children, the luggage to carry and how do deal with any emergencies.
"The beauty about planning for this venture together enabled us to grow closer as a couple since our dating and marriage happened during the planning of the world trip," explained Wamuyu.
From the onset, the couple knew that the success of the undertaking depended on their being together and so far, they have kept it that way – glued to each other.
"But first things first, we had to take our vows," says Dos who wed the love of his life on April 2, 2017. The following year, on July 2, the couple biked off as a couple for the unknown after an emotional send of.
Decision made, money saved (Sh26 million), and now wedded, the couple did what they had been putting off for a while – letting their loved ones know about their upcoming world expedition on motorbikes. For Dos, this was not difficult as his family (three sisters) live abroad and are well travelled. The challenge was her family.
"We thought the hardest to deal with would be our children (girl 19 years and boy 16 years), but on the contrary, they were very supportive. It was my mother and sisters who had a difficult time dealing with the news," Wamuyu narrates.
However, the couple was intent on their decision and eventually won over the hesitant family members. With their blessings, they sold everything they owned and were ready to take off.
The first leg through the African continent saw them bike to Uganda, Rwanda, Botswana, Namibia, and South Africa. They have been on the road on their bikes for a year now. "We are stronger, our energies are enormous and we are more determined to keep on track," says Wamuyu. Their smiles, the way they look at each other, their shared jokes, the special bond and warmth makes them the epitome of love.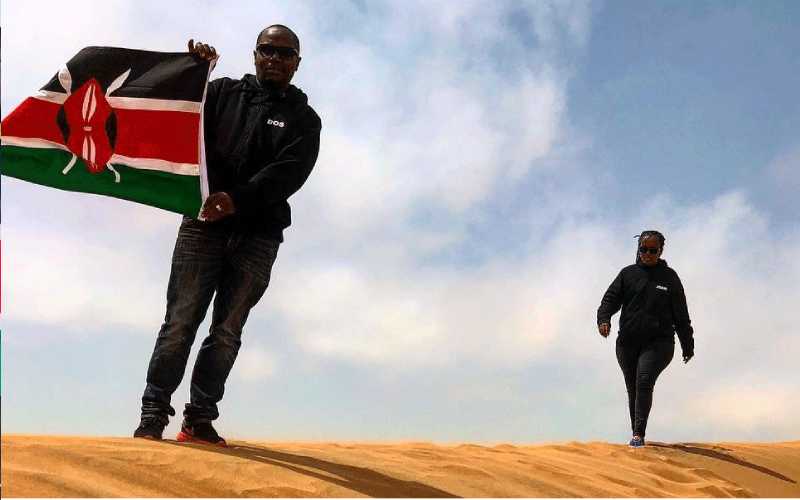 Travelling together as a couple
"We can put on the same t-shirt for five days, wash our underwear every night and as long as our bikes are running and our passports and finances in order, we are good to go," says Wamuyu.
Through travelling with her husband, Wamuyu has learned lessons that have made her a better person. "Before I met Dos I had a fear of heights and my personal growth was limited by fear. In our travels, my husband has been a great source of inspiration," adding that some of the things that he asked pushed her to do include zip lining, skydiving and of course long-distance biking through difficult terrain.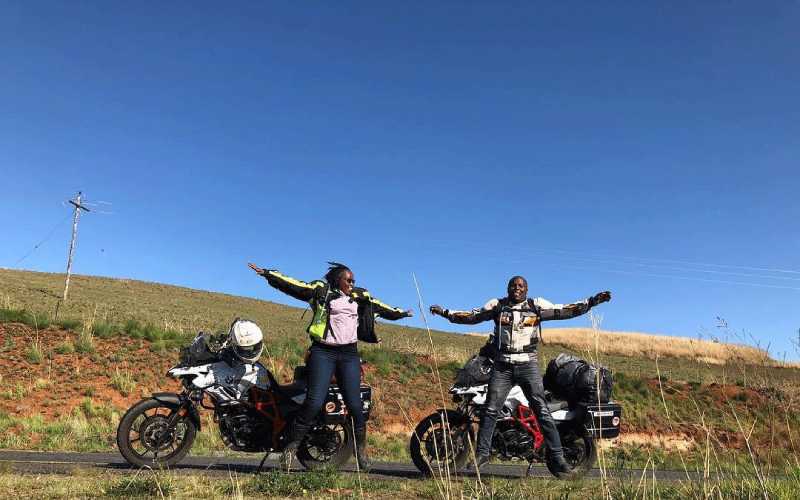 "Now I am confident that I believe everything is possible," she says.
One of the most challenging and toughest experiences, she says, was crossing a wooden bridge on a bike in Malawi. When she saw the thinning timber she was paralysed by fear. Her husband effortlessly rode over and beckoned her to cross but she could not. In the meantime, traffic was building up, so she moved off the road to pave way for the other road users.
"I realised that I had no choice and Dos was not going to come for me as he knew I could do it," Wamuyu reminisces.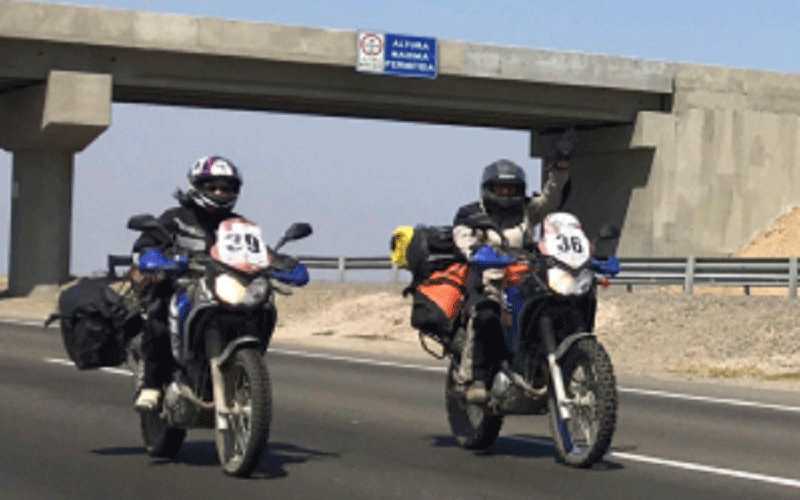 She finally did it, and that with action fear ebbed away from her life completely. Wamuyu has also learnt to be patient and calm because with her husband as her only companion and relative, she has no other choice.
"If I get annoyed, I don't have many options of who to turn to and if I need to vent and deal with anger, it is just him around. I do not have space or any other person to go to sulk – there is only him 24-7, so I have to know and deal with my emotions. I have learned to say sorry more times than I have ever said in my life," she says laughing.
Travelling with Wamuyu has given Dos an insight into women and their emotions and taught him how to deal with them.
"I do not run away when my wife becomes emotional but instead give her some space," he says.
And by so doing, he has learned how best to cultivate companionship and enjoy life with the love of his life. Doing things together and sharing chores, spending more quality time has helped strengthen their budding relationship.
Riding has been a predominately a male-dominated sport, especially in Africa, and many people address Wamuyu as 'sir' when she is wearing her helmet, quips Dos. It is thrilling for him to see other women becoming interested after seeing Wamuyu on the bike.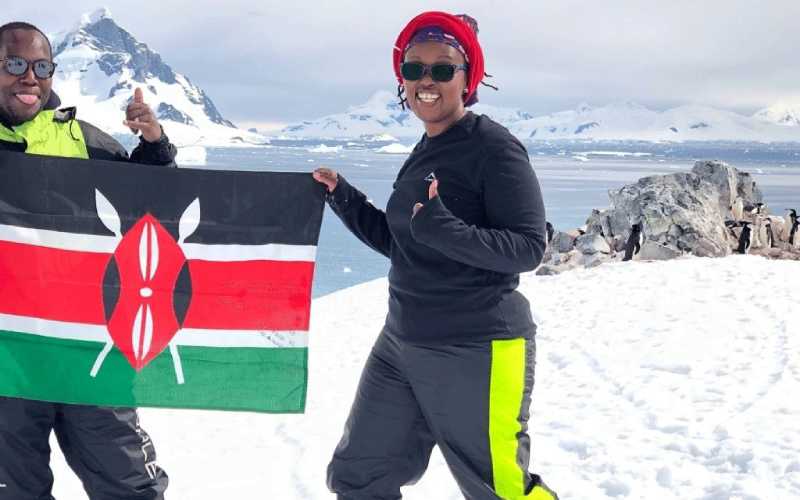 "It makes me appreciate my wife even more and I have grown to cherish and honour her," he says, adding that many women have taken up riding because of her. Meeting so many people has made him appreciate women, their hardships, limitations, vulnerability and the role of a man as a support system.
Countries the couple have visited
Uganda
Tanzania
Zanzibar
Rwanda
Malawi
Zambia
Zimbabwe
Botswana
Namibia
Lesotho
South Africa
Antarctica
Argentina
Chile
Bolivia
Peru
Ecuador
Columbia
Panama
<!—- ShareThis BEGIN -—> <!—- ShareThis END -—>