Top 10 conference facilities and meeting venues in Kenya
By Chebet Waweru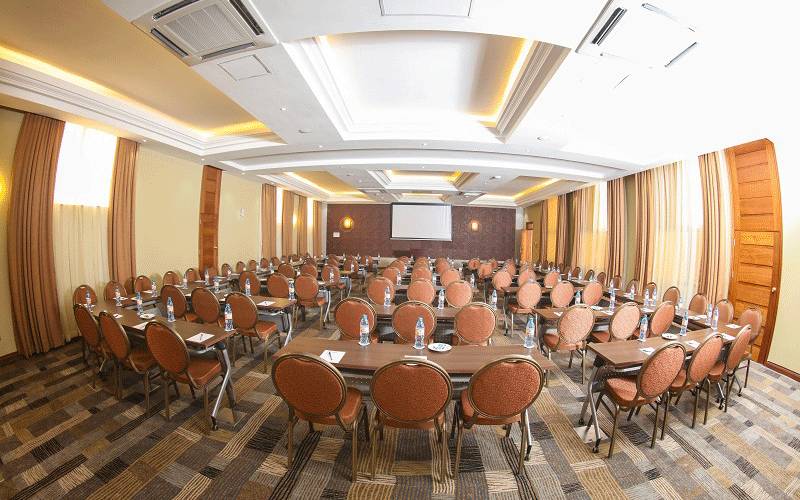 Kenya is a renowned business hub and one of the biggest contributors to the continent's economy. It is, therefore, no secret that many establishments have invested in state-of-the-art conference rooms and facilities to match the needs of the business market, both locally and internationally.
We sample the country's top conference facilities:
KICC
The Kenyatta International Convention Centre (KICC) is more than just a landmark. This facility houses some of the best meeting halls in the country that has hosted numerous events such as the visit by former US President Barack Obama in 2018.
Besides the meeting halls, KICC also has exhibition areas, making it ideal for trade and cultural events. It is a popular choice for many due to its technological installations and its prime location in the capital city's CBD.
University of Nairobi
For scholars and researchers, Kenya's oldest university is a perfect venue for conferences and symposiums. The University of Nairobi, UoN has hosted major events such as the Pan African Reading for All and the African International Business and Management among others.
Just like KICC, UoN doubles up as an exhibition arena. It's new building, University of Nairobi Towers, on the main campus in Nairobi has also increased the attractiveness of the institute as a key conference centre.
Lake Naivasha Resort, Naivasha
Looking for an out of town business getaway but still close to the city, then Naivasha is your ideal site.
Located about a two hour's drive, on a distance of about 100 kilometres from Nairobi, Naivasha boasts of an array of hotels from where conferences and events can be held away from the hustle and bustle of the city.
One notable venue is Lake Naivasha Resort, a new kid on the block that the ideal venue for all your meetings and conferences. Their RMK Conference Center is a state of the art facility with five boardrooms each with a capacity of 10 - 30 persons, nine conference halls each with a capacity of up to 150 persons.
This means that they can host an impressive 2, 000 people in their meeting rooms. The idyllic location on the shores of Lake Naivasha also ensures a serene environment for holding meetings especially the brainstorming kind
Lukenya Getaway
At the foot of Lukenya Hill off Mombasa Road is Lukenya Getaway, which offers both indoor and outdoor options for visitors. With conference rooms that can hold up to 300 guests, the location is also ideal for team-building activities and company retreats.
Sarova Stanley
Smack in the middle of the city, the Stanley combines history and modernity with its conference facilities. It is a popular site for early-in-the-morning conferences and day-long events.
Facilities such as Wi-Fi, business centre with secretarial services as well as easy to access restaurants make it a popular choice for many.
Serena Beach, Mombasa
A combination of the ocean breeze, white sands and sun is a good temptation for anyone hoping to mix business with pleasure.
It is, therefore, a good thing that hotels at the Coast have this at the back of their minds, offering competitive packages for visitors. Serena Beach hotel is among the top spots for conferencing in Mombasa, with rooms that can accommodate up to 130 people and planning assistance for recreational activities and off-site activities.
Temple Point
Still at the coast is Temple Point Resort in Watamu. Although it is known for its holiday feel, the lodge offers conferencing facilities that can accommodate over 400 people in two conference rooms and several other event venues.
It also offers space for exhibitions and trade fairs as well as planned on and off-site activities such as boat tours.
Fairmont Mara
Looking to experience a tented conference room? The Fairmont Mara Safari Club, a luxury resort in Kenya surrounded on three sides by the breathtaking Mara River, has one that can fit up to 300 people while the smallest room can accommodate 14 people.
What sets this venue apart is its aim at promoting environmental sustainability by offering planners the chance to minimize their conferencing footprint, engage in a volunteerism program as well as designate a percentage of the revenue to local charities.
Acacia Hotel Kisumu
With a grand view of Lake Victoria, situated along Ochieng' Oneko road in Western Kenya's Kisumu County, this relatively new hotel offers conferencing facilities that can hold at least 250 people.
The hotel also has various ballrooms for a smaller number of guests. Standard conference equipment like projectors, sound system and Wi-Fi are provided for guests.
10. Boma Inn, Eldoret
Situated off Ramogi Road, off Elgon View Drive in Elgon View Eldoret, the Boma Inn is resplendent with five meeting rooms and two executive boardrooms.
Alongside Wi-Fi, audio-visual tools, the Red Cross-owned hotel has a robust business centre for secretarial services. It can host up to 250 guests.
<!—- ShareThis BEGIN -—> <!—- ShareThis END -—>