Spotlight on the casino culture in Kenya
By Travel Buff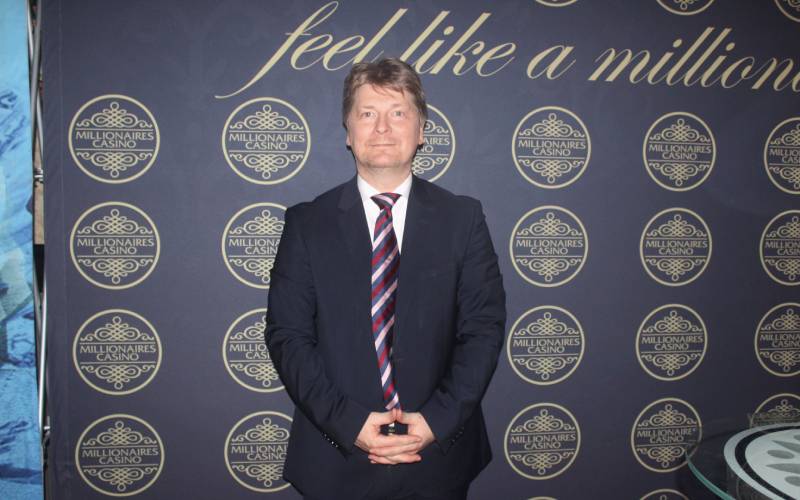 Global casinos had a projected gross gaming yield of around 130 billion U.S. dollars in 2019. Social casino gamers are also on the rise. Atilla Torok, the regional Operational Manager, Millionaire club, shares insights on an industry shrouded in misconceptions. The club is located at Two Rivers Mall, Limuru Road, Nairobi.
Who is Atilla Torok?
I have been in the casino business for 27 years and have been with the Millionaire Group for approximately two and a half years starting with a posting in South America.
It was always my desire to come to Africa and witness its celebrated beauty firsthand. I was elated; thus, when I was recently selected to head East and Central Africa. I reported for duty about a year ago.
My career started as a dealer in the casino after training before becoming a manager. I have to admit, however, that I miss being a dealer as it was the best part of my life. I enjoy dealing with customers and providing customer service.
How would you describe gambling to an audience who consider it a vice?
Everyone enjoys winning and that explains the innumerable competitive games and sports we engage in. There is an adrenaline rush and confidence build that comes with knowing that you are the best at something. Our innate nature to play and win forms the basis of gambling.
The next step to experience a heightened adrenaline rush is when you take a risk. When you actually bring in your own income and bet trusting that you will build on your investment. People from different lifestyles have differing needs but the bottom line for everyone is transparency and a fair chance to win.
Is casino gambling and betting the same thing?
The stark difference between sports betting, online gambling and casino gambling is that the latter is land-based and the player has to physically visit the location in order to receive the service.
Online gambling is very easy to access. Almost everyone has a smartphone or access to the internet that allows them to download a gambling application or access a betting site.
The easy access comes with a downside. The sheer number makes them difficult to regulate and have loopholes that allow underage persons and those without disposable incomes to participate, risking their livelihoods and potentially become addicted.
For casinos, on the other hand, one must visit the place where we check their age and their spending power. One also has a decision to either participate in the game or not. The time that you can spend in a location is also limited to allow players the time to engage in other life matters.
We are also able to monitor the level of risk taken and prevent the player from going overboard.
How addictive can gambling be and can it be practiced safely?
Gambling can be very addictive if not regulated. At our casino, we care about our clients and have a guest relations department charged with the responsibility of understanding the client, their spending power and their personality.
We also monitor the money and time a guest spends. Should a client exceed their spending power, we take them aside and counsel them on the dangers of addiction. In addition, we offer other entertainment options, including fine dining, for our guests to enjoy.
What are your thoughts on the government's directive to kick out some sports betting sports companies?
Governments have to look after the interests of the country. Gambling is a sector that requires regulation and the Betting Control and Licensing Board is in charge of this. I trust that what happened recently is based on credible research and a good understanding on what requires to be done in the gaming industry.
Overtaxing, in my opinion, is not a way of creating a good environment for the business. A good understanding of the industry and the right level of taxation, which will allow the industry to remain sustainable, is an ongoing process. To achieve this, proper communication between the industry and the governing sector is key.
Card games like casino poker and black jack are not common in Kenya. So who plays?
While Black Jack is the most traditional card game in this industry. Most Kenyans know it as the game of 21, but relatively few play it. The poker game, on the other hand, is huge in Kenya.
There are so many variations over here than I have actually never seen in my life. There are different types like jambo poker, seven card poker, the tree card poker, and Russian poker.
In our case, we do not only concentrate on tradition but incorporate fan favourites as well.
What is unique about this place is that every table game has a progressive jackpot, which no other casino has. This means that when you play Black Jack, for instance, and make a bet on a progressive jack pot game; if you are lucky from time to time you'll be able to have an extra winning which is a jackpot winning.
What drives trends in the casino industry?
Clients create trends but the product providers define and drive the trends. If your product is strong enough then you can create a demand for it. Continued client engagement offers the chance to review and improve the product. That way, you remain ahead of the market and it gives you the foresight to know when to quit.
<!—- ShareThis BEGIN -—> <!—- ShareThis END -—>