Travel tips from the first family of domestic tourism
By Travelog Writer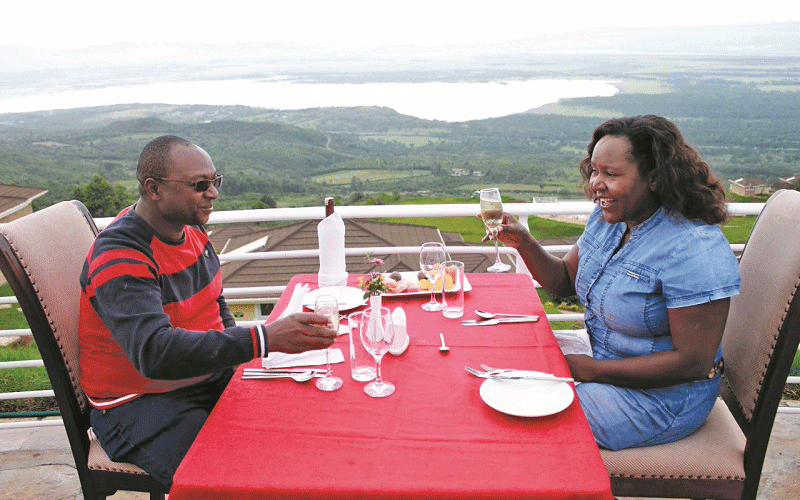 The Kabus, as they are fondly known, need no introduction. Simon Kabu and his wife, Sarah Kabu, considered by most as the first family of domestic travel serve as a great inspiration to many Kenyan youths after starting their multimillion Bonfire Adventure tours and Travel Company with only a dream and Sh20, 000 seed capital.
Travelog caught up with them to share travel hacks that work for them.
What hacks do you have for anyone travelling with family?
Plan to travel with your nanny if you can afford it. The extra hand will allow you some wiggle space to enjoy yourselves. If you cannot afford to bring your nanny with you, opt for a hotel that has a solid animation programme that will keep your progeny engaged and networking with their age mates for the duration of your stay.
Importantly, choose child-friendly spots that will assure you peace of mind.
What are your thoughts about travelling with spice?
Ha ha ha. From our experience, couples who travel often together tend to have firmer relationships.
Travel not only reduces stress and rejuvenates, but the alone time allows couples to discuss matters their regular schedules cannot afford them. You are in essence forced to bond.
What are some of your favourite travel destinations?
Sarah: I am simply blown away by Laikipia for its scenery and exclusive lodges. What visitors experience here is hard to replicate elsewhere.
That also informs my love for London where their offering is as original as they come. Many have imitated some experiences offered here but nothing beats the classic original.
Simon: Diani works for me for its unparalleled beaches and all-year-round warm weather. In Africa, Zanzibar is a fine destination.
What don't people know about you?
Sarah: I am very prayerful.
Simon: I enjoy a good action flick preferably one by Nicholas cage or jet Li
Most embarrassing situation on the road?
That would have to be during one of our visits to Abu Dhabi where Simon lost his travel wallet that contained all our money and cards. We were travelling incognito as we always do when researching for our client packages. Well, we were due to check out the following morning and had just maxed out our credit extension.
As expected, the hotel management did not find our tale very amusing let alone convincing. It took some of our ground handlers to save the day. Needless to say, once it was all sorted out, they were very sorry for our embarrassment. We never found the wallet.
Travel cheats?
Sarah: Always have an itinerary of the destination you are visiting and follow it religiously. That enables you to get the best out of your visit.
Opt for accommodation closest to the action to save on commute time. If your itinerary is packed, do for budget accommodation considering you will be exploring for most of the day.
As long as the accommodation is clean, comfortable and safe, you are good to go. If you are going for relaxation, on the other hand, luxury is a priority.
Simon: Don't travel blindly; research first. This allows you to have a fulfilling experience and you also learn smart ways of saving money.
When travelling abroad, acquire a local SIM card for effective communication. Go for an early check-in and late check out as possible.
Please, do not walk around with all your money, identification and travel papers.
Toughest destination you've been to?
While China is beautiful, we had a hard time adapting because of several reasons. First, we had to endure very long flights before we arrived at our destinations. Upon arrival, we suffered the language barrier. We were unfortunate not to encounter people who spoke English and were resorted to using translation applications.
To make matters worse, most communication means we take for granted here are banned or inaccessible there. Even as we shrugged this hurdles off, we had a hard time coping with the local food that can be a mouthful for anyone with traditional tastes.
In spite of our rough first encounter, China is a favourite destination for most Kenyans and we still look forward to going back to experience the Great Wall. We have invested in local guides with English knowledge as well as Kenyan-born guides living there to ensure our guests do not suffer our fate.
What next for the Kabus?
We consider ourselves pioneer drivers of the domestic travel narrative. We are here to stay and are currently diversifying our portfolio and working on innovative products.
<!—- ShareThis BEGIN -—> <!—- ShareThis END -—>